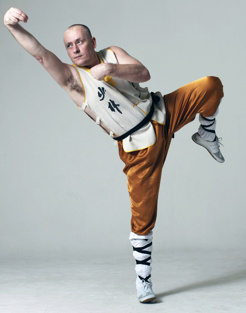 The training is based on traditional Shaolin kung fu. It is a northern kung fu style derived from the Shaolin Temple in Henan province, China. Shaolin kung fu is one of the oldest martial arts systems in the world.

Shaolin kung fu is a balanced form of training, based on ancient proven methods in combination with modern exercises, that build agility, focus, strenth and self defence skills.

The purpose of the training is personal development and well being. In addition to a better physique and consitution you get a greater awareness of your body and its abilities.

The training is made up of basic training with thorough stretching, basic techniques and strengthening and conditioning exercises. This is in addition to taolu where one trains traditional Shaolin forms.

From 2013 SWI has had a partnership with Yongtao Xing from Sweden Shaolin/Dragon Gate, who has many years international competition experience in addition to touring with international Chinese display teams. Yongtao Xing has trained in the Shaolin Temple in China.