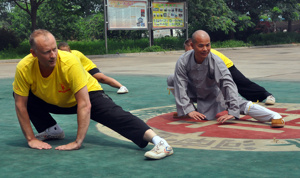 SWI was founded in 2002. Before this, training and competition activities took place within our sister federation Quan Fa which started back in 1991.

SWK has a broad focus and, besides training, arranges training trips, courses, referee training courses, competitions, sells training equipment and anything else related to wushu.

Today SWK - Stockholm Wushu Kung fu - has several instructors that work together under the same roof, to shape the best wushu training in Sweden! We also have contacts and regular exchanges with a number of clubs and other wushu agents in China.

We are also in partnership with the Swedish Kung fu & Wushu Federation, our instructors participate as members of the board and referee committee, amongst other things.

At SWK you can train traditional Shaolin kung fu, standardised (compulsory competition) taolu and sanshou. You can train for fitness or competition, or combine both in different ways based on your own abilities.

At SWK you have a unique opportunity to test out different wushu styles. Our instructors are specialised in different styles, so you can find the format that suits you best.

SWK also puts on a wide range of entertaining public events to aid the growth of the sport of wushu in collaboration with different clubs. SWI events include the Stockholm Sanshou Cup, the Stockholm Wushu Open and the Stockholm Kung Fu Festival.
Peder Finnsiö, instructor shaolin och sanshou - peder@wushukungfu.se
Yongtao Xing, instructor taolu and shaolin – swedenshaolin@gmail.com
Gunnar Malm, instructor sanshou - gunnar@swi.se
For more information, e-mail info@wushukungfu.se or ring 070 670 51 81
Would you like to take part in a training trip to China? Through a partnership with the Capital University of Physical Education and Sports(CUPES)we can offer a wushu and Chinese language training course from 2 weeks to several terms at one of Peking's best sports universities.

We also offer more training camps and trips to different places in China – ​read more here!